The Office is an area in The Return To Freddy's 2.
Appearance
Edit
Similar to Five Nights at Freddy's 2, there is a big no-door entrance in front, with a entrance on the left, and another at the right. There are two small lights dimmed onto a few drawings and the posters of Freddy Fazbear's band. It is also heavily covered with beams and wires, similar to all of the other rooms in the location.
Even if most of the animatronics finds their way to the office by any of the corridors, they all appear in the hall in front of The Player.
the office in Five Nights at Freddy's 2 appears to be very similar to the office in this game. exept for the corridors.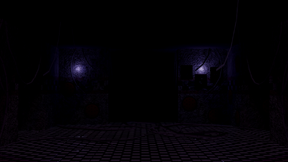 Ad blocker interference detected!
Wikia is a free-to-use site that makes money from advertising. We have a modified experience for viewers using ad blockers

Wikia is not accessible if you've made further modifications. Remove the custom ad blocker rule(s) and the page will load as expected.