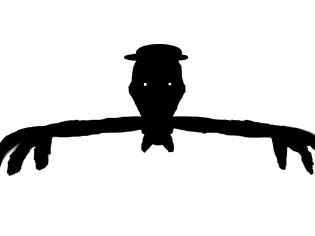 Shadow Puppet is a Easter egg and only appears in the night 4 minigame in TRTF 2.
Shadow Puppet is one of the animatronics to have an animatronic counterpart. The others being Shadow Lockjaw, Shadow Freddy, and Shadow Bonnie.
When Shadow Puppet jumpscares you, it would crash the game.
It is also possible that Phone Guy from TRTF 1 was stuffed at some puppet suit like that.
Shadow Puppet could also represent Golden Lockjaw at the same time.
If you look at TRTF 1 Backstage it seems that it's small room even smaller than TRTF 2 Backstage, so where was Golden Lockjaw's and Lockjaw's location in TRTF (FNaF 1) pizzaria?
Shadow puppet has the same jumpscare of puppet in fnaf 2
Ad blocker interference detected!
Wikia is a free-to-use site that makes money from advertising. We have a modified experience for viewers using ad blockers

Wikia is not accessible if you've made further modifications. Remove the custom ad blocker rule(s) and the page will load as expected.