Cawnoth Cotts is the main protagonist in The return to Freddys 2.His name is take from Scott Cawthon's name(Scott is the creator of Five nights at Freddy's).His paycheck says:66.00$.He is worked for 2,2$ for a hour.However the possible year is 1975(2,10$ for a hour).He can be heard when he is breathing under the Freddy mask.
Cawnoth Cotts
Cawnoth Cotts in a Freddy suit.

Vital statistics

Night
Night1
Gender
Male
Starting Location
The office

Physical attributes

Type
Security guard,Player Charachter
Defended With
Flashlight turned off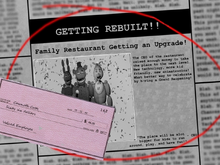 Ad blocker interference detected!
Wikia is a free-to-use site that makes money from advertising. We have a modified experience for viewers using ad blockers

Wikia is not accessible if you've made further modifications. Remove the custom ad blocker rule(s) and the page will load as expected.